Hey Y'all!
We'd like to let all our visiting guests know that Pearls is currently closed for renovations.
The Snack Bar is still open for food purchases.
Fried Gator Nuggets, Oh Yea!
Built in 1991, Pearl's Good Eats, (originally Pearl's Smokehouse) is a real treasure amongst theme park diners. Named after the founder's wife, Pearl Godwin, the eatery is located near the World Famous Gator Wrestlin' Arena and is open daily for lunch and dinner.
The menu is packed full of family favorites including hamburgers, hot dogs, pulled pork sandwiches, ice cream and much more. But the true guest favorite is definitely the fried gator nuggets – no, we don't use our own gators! Guests have been known to drive for miles for some of Pearl's famous gator bites. Oh, how they love´em!
Everything is priced affordably so as not to break the bank while you're here. Where else can you munch on fried gator meat while surrounded by hundreds of man-eating reptiles?
Picnic table style seating is available in a screened enclosure located next to Pearl's.
For the well-being of the residents (animals & reptiles) outside food and beverages may not be brought into the park.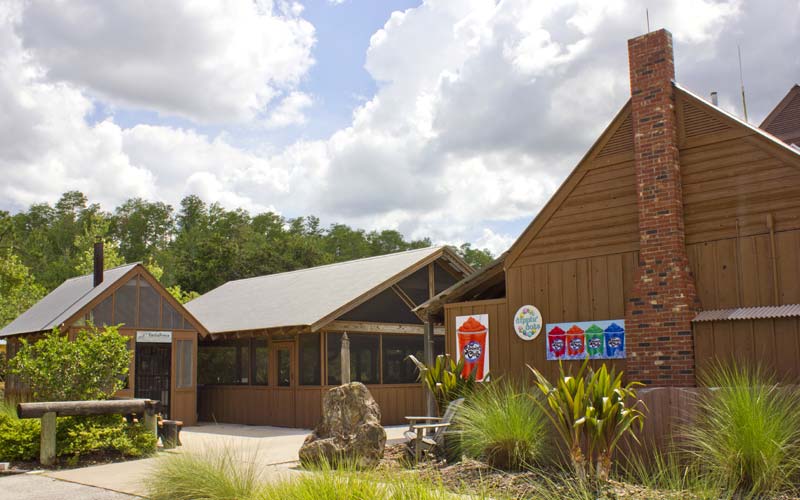 Gluten-Free Items at Gatorland
BEEF HOT DOGS AND FOOTLONGS ~ Hot Dogs
NACHO & CHEESE
BBQ IN A BOWL
PLAIN POTATO CHIPS
BOMB POPS
DIPPIN' DOTS ICE CREAM
SNOW CONES
COOL TUBES
STRAWBERRY FRUIT BARS
| Main Menu Items | |
| --- | --- |
| Deep Fried Gator Nuggets | $10.49 |
| Combo Meals (come with fries) | |
| Hamburger | $6.09 |
| Cheeseburger | $6.39 |
| Cheeseburger with Bacon | $6.59 |
| Grilled Chicken Sandwich | $6.99 |
| Chicken Tenders (3) | $6.29 |
| BBQ Pork Sandwich | $6.49 |
| Hot Dog | $5.99 |
| Chili Cheese Dog | $6.49 |
| Snacks | |
| --- | --- |
| Peanut Butter & Jelly Sandwich | $1.99 |
| Potato Chips | $1.59 |
| French Fries | $2.49 |
| Onion Rings | $2.69 |
| Nachos & Cheese | $3.29 |
| Pork Nachos | $5.49 |
| Mac & Cheese Bowl | $3.99 |
| Ice Cream | |
| --- | --- |
| Dippin' Dots | $4.39 |
| Assorted Large Ice Cream | $2.99 |
| Vanilla Brownie Cone | $3.99 |
| Drinks | |
| --- | --- |
| Hot Tea/Coffee/Hot Chocolate | $1.49 |
| 24oz Fountain Drink | $3.59 |
| 12oz Souvenir Cup | $3.99 |
| 12oz Refill | $0.49 |
| 32oz Souvenir Cup | $6.99 |
| 32oz Refill | $0.99 |
| Large Slushie | $2.79 |
| Gatorade | $3,25 |
| Orange Juice | $2.89 |
| Apple Juice | $2.89 |
| Bottle Water | $2.75 |
| Sippers | |
| --- | --- |
| Small | $3.99 |
| Small Refill | $0.49 |
| Large | $5.99 |
| Large Refill | $0.99 |
| Ice Cold Beer |   |
| --- | --- |
| Budweiser/Bud Lite | $5.99 |
| Bud Lite Lime | $5.99 |
| Michelob Ultra | $5.99 |
| Stella Artois | $5.99 |
| Hard Apple Cider (Gluten free) | $5.99 |
| Wine (Red or White) | $8.99 |
| Sangria | $8.49 |
| Rose | $6.99 |