Host Your Child's Birthday Party at GATORLAND
Gatorland offers customized birthday party packages to fit your child's wish list, without breaking your budget
No decorations needed for Orlando's Best Half Day Attraction®.  You supply the basics: cake, plates, forks, presents and of course – the guest of honor.
Gator Galore Party Package
This is the perfect package for parents on the go. Everything you need to host a memorable party is included in this one-of-a-kind party package.
Package includes the following:
Admission for up to 15 guests (Ages 2 and under free)
Backstage tour with one of our World Famous Gator Wrestlers
Two hours at the Gatorland Party Pavilion
8×10 Party Photo – "Big Al" Photo location
Animal meet & greet with photo opportunities
Unlimited train rides
An Annual Pass for the birthday child
Downloadable party invitations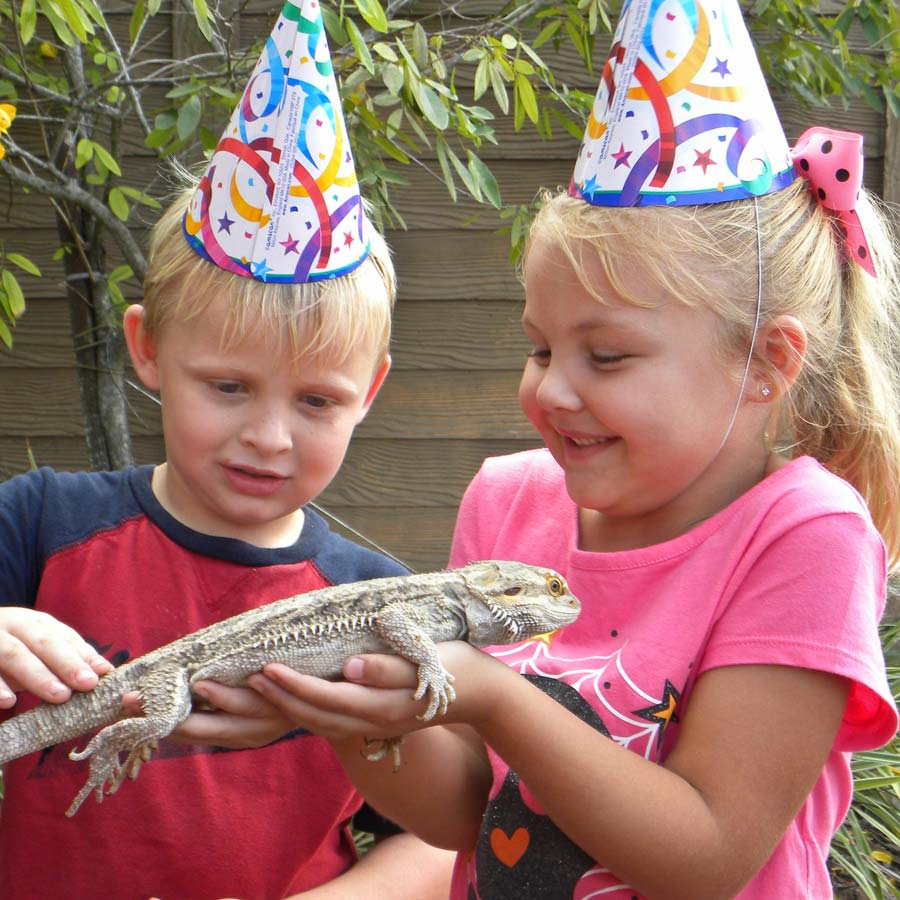 Birthday Meal Options
Peanut Butter and Jelly Sandwich, Goldfish Crackers, Oreo Cookies and a Sierra Mist
$3.99
Hot Dog, Goldfish Crackers, Oreo Cookies and a Sierra Mist
$5.99
Hamburger, Chips and a Sierra Mist

Chicken Tenders and Chips

$6.49

$4.75

Upgrade to Fries
$1.50
Ice Cream
(excluding Vanilla Brownie Cone)
$2.00
*All prices are per person and subject to Florida sales tax. Currently 6.5%
Additional Attraction Extras
Adventure Hour
For each party group member
$10.00 each
Animal Chow
$3.00 each
Gator Gauntlet
Single zip line
$15.00 each
Meet-A-Gator
$8.00 each
BIRTHDAY PHOTOGRAPHY PACKAGE     Includes:

Personal party photographer for duration of the party
Flash drive of high res images
Prints of images are not included with package

$80.00 each
Trainer for a Day Tour
$125.00 each
Party Times and Guidelines
Two birthday times:

10:00am – 12:00pm
1:00pm – 3:00pm

(Additional party times may be available to help accommodate additional attractions booked.)

Due to other party reservations, all times reserved are final.
Birthdays must be reserved a minimum of one week prior to party date.
All party guest numbers must be accurate prior to party day.
Each additional guest over the original 15 will be required to pay the $15.00 admission price prior to the party.
Party guests should arrive at least 15 minutes prior to party time.
Gatorland's Birthday Pavilion is a covered OUTDOOR area.
Gatorland is not responsible for Florida's pesky weather changes and other natural occurrences (wind, rain, lightning, thunder, cold weather, etc.)
Birthday group brings the cake (not provided by Gatorland). Birthday cake is the ONLY food product allowed into the park.
For reservations & information, please contact Danny Perich:
Call (407) 855-5496 Ext – 233 or via e-mail at DannyPerich@Gatorland.com