Homemade Fudge from Only the Best and Freshest Ingredients!
Derek Keleghan, all the way from Ireland, operates Gator Jake's Fudge Kitchen at Gatorland. Derek has been making handmade fudge and candies for over twenty years. He came to Gatorland in 1999 and continues to make homemade fudge from only the best and freshest ingredients every day.
The fudge is made using a copper kettle and marble table. He stirs the fudge by hand using a fudge paddle and when it reaches its boiling point of 235 degrees, he pours it on to the marble slab with the help of his 'third arm' (a chain from the ceiling), where it cools for a few minutes. He creams it with a fudge paddle and forms it into a loaf with a hand spatula before cutting the loaf into slices. The whole process takes about one hour per batch.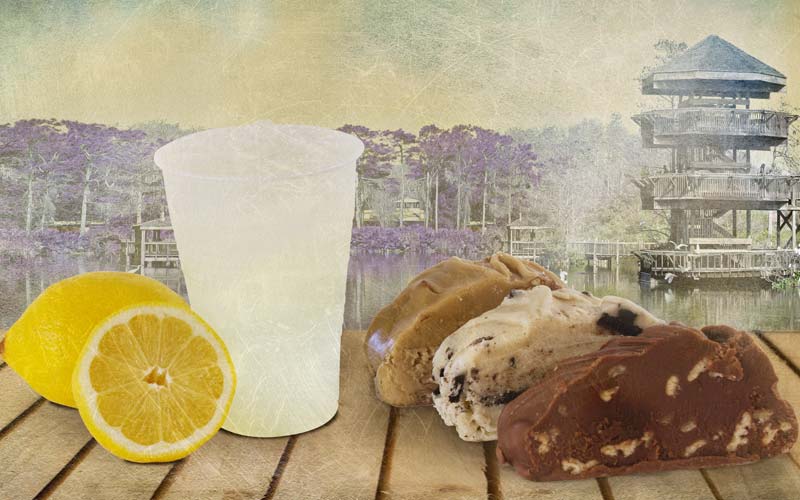 There are at least 10 varieties of fudge:
Chocolate
Chocolate Pecan
Chocolate Caramel
Rocky Road
Oreo
Maple Pecan
Vanilla
Praline
Chocolate Peanut Butter
Peanut Butter
Derek also makes his own caramel and candies, chocolate and caramel apples, chocolate dipped marshmallows, chocolate and caramel pretzels, frozen chocolate bananas and because you are at Gatorland, a chocolate alligator on a stick!
The fudge is based on a price of $14.95 per lb and slices are cut at about 1/2 lb per slice. The three slice special is buy 2 and get the 3rd slice for free. The 3 slice deal will be about $15.00 plus tax. The fudge can be stored at room temperature up to 10 days or you may freeze it and keep for another time. It does not take long to defrost and tastes like the day it came off the marble table.